May 06, 2021
People's growing demand for personalization push the PVC card printing machine to be used to complete the personalized printing. It can also help enterprises get rid of the waste caused by mass production of a single card.
However, the personalized printing of PVC cards will cause safety problems. In the highly competitive business world, you would not be strange with counterfeiting. Counterfeiting is so prevailing that enterprises have to take anti-counterfeiting measures.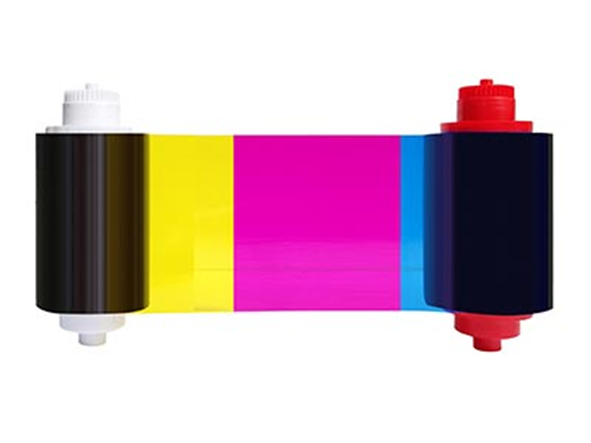 To solve this issue, Seaory launched a new series of PVC card printing machines with UV anti-counterfeiting color band, which is widely used in the PVC card printing scheme to enhance ensure the uniqueness of the card through the color of the card.
Anti-counterfeiting is a kind of preventive technical measure taken by enterprises to protect the brand, the market, the legitimate rights and interests of consumers. Anti-counterfeiting technology utilized by enterprises is to improve the enterprises' image and service and show their responsibility for the consumers and society.
The UV anti-counterfeiting color band printed by the PVC card printing machine can use specific colors to add fluorescent pictures and words. This could make the card easier to verify and more secure. The UV anti-counterfeiting color band has high clarity, visible discoloration effect under purple light, strong glossiness, excellent scratch resistance, and color band saving.
The new technology added in our PVC card printing machine - the UV anti-counterfeiting color band plays a critical role in fighting counterfeiting. Naked eyes can't see the UV anti-counterfeiting color band under normal light. However, it can appear in blue under the irradiation of a purple light lamp.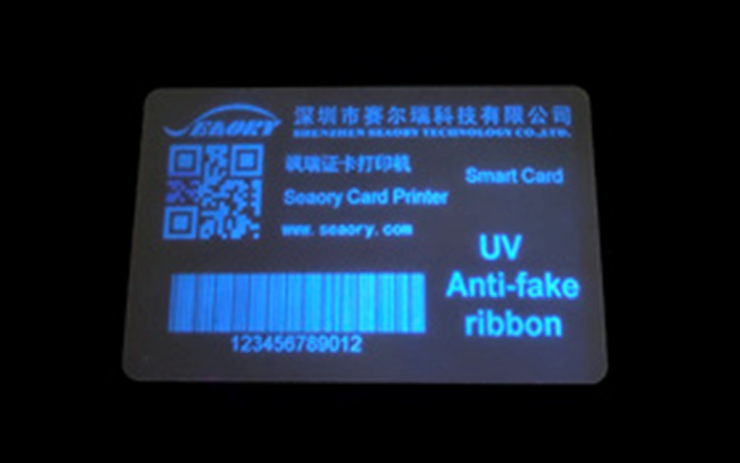 It is often used in the general level of anti-counterfeiting. UV anti-counterfeiting ribbon uses advanced UV anti-counterfeiting fluorescent ink to apply it to the thermal transfer ribbon. It can use a small PVC card printer to achieve personalized printing and accomplish a variety of anti-counterfeiting effects. The PVC card printing machine can customize fluorescent blue, fluorescent red, fluorescent yellow, fluorescent green, and other effects according to your needs.
You need to choose the card without a fluorescent brightener when using a UV anti-counterfeiting color band to achieve personalized printing. Or the quality of the UV anti-counterfeiting color band might not be well ensured, even with a good-quality PVC card printing machine.
If using thermal Sublimation color printing with business card printing, you need to choose an o-layer as the light-transmitting material (such as YMCKO full-scale color band). Because in this way, the fluorescent effect printed by UV anti-counterfeiting color would be more ideal. When you use our UV anti-counterfeiting ribbons, you will achieve excellent printing and anti-counterfeiting effect.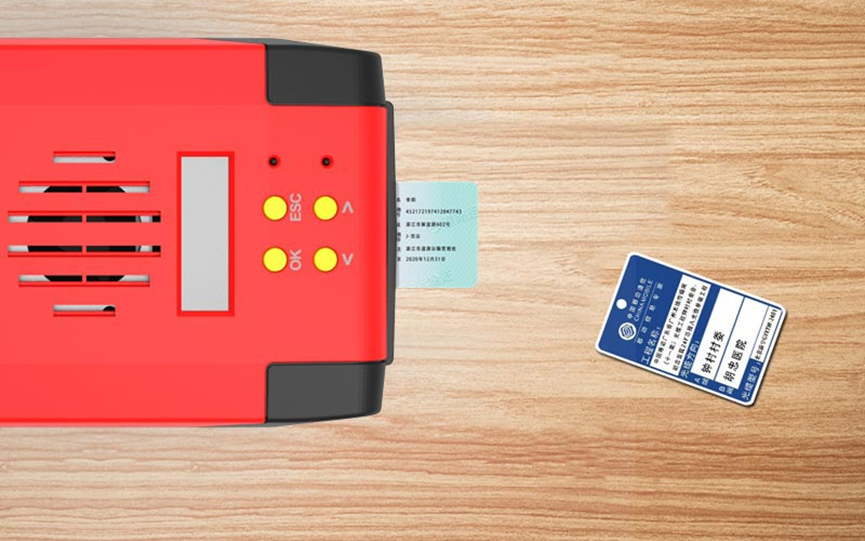 Seaory is one of the most comprehensive companies with PVC card printing services in the industry. We will cooperate with you directly to solve any issues with your PVC card printing machine.
With techniques and thoughtful designs, we would like to offer you help as much as possible with our PVC card printing machine on the way to protect your brand and your enterprise.